When I was sitting in the Paramount Theater watching the SXSW world premiere of Steven Spielberg's Ready Player One a thought ran through my head: the kids are going to flip their shit for this movie.
Yes, that includes all children who like big, goofy, fun adventure stories, but "the kids" in this particular fleeting thought referred to my nephews, Max (7) and Rocco (10). One of the greatest joys of my life over the last few years has been introducing these kids to various movies, some obvious kid stuff, some a little more challenging, and watching Ready Player One that first time it felt like I had been building them up to this moment where it would all pay off.
We've seen all three Back to the Futures on the big screen. They were intrigued by my Iron Giant poster hanging in the guest room of my house and saw that. I've had them on a steady Spielberg diet pretty much since the very first time their parents let me take them to the movies.
On top of that, the oldest has been getting really into video games lately. I've walked him through some Destiny quests and more recently have been playing a goodly amount of Overwatch with him.
So, they were ready for Ready Player One.
Almost.
There was one glaring omission from their cinematic education, a movie pretty adult even for these little monsters. Of course I'm talking about The Shining.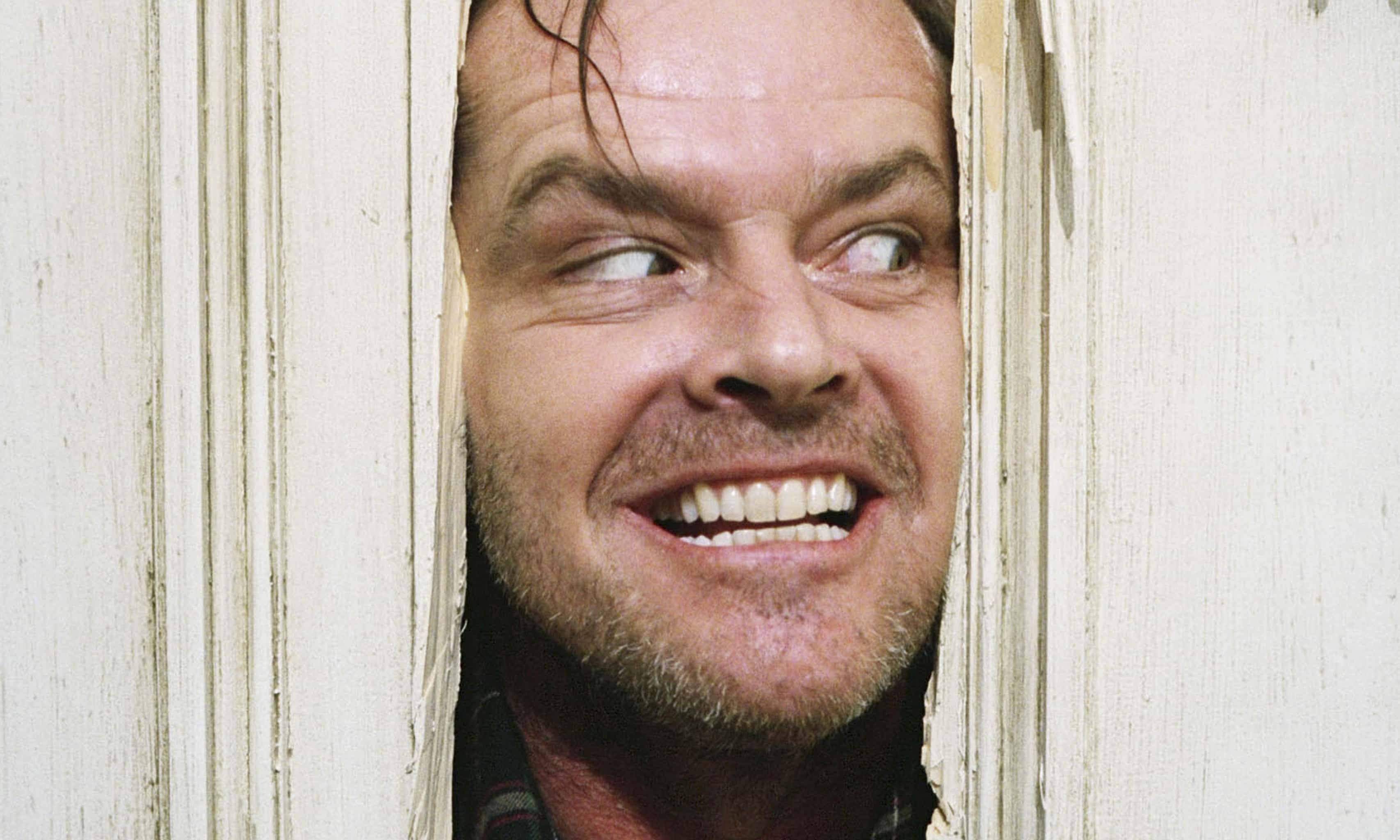 Here's the deal. The older one's great with horror movies. Rocco watches them the way I did at his age. Open enough to be creeped out, but focused more on how fun and awesome they are. He flipped out for It last year and I've had the absolute pleasure of introducing him to stuff like An American Werewolf In London and The Sixth Sense.
The younger one, Max, isn't so hot on horror movies. He loves big smash-em-ups and giant monsters and stuff, but it's tone that gets to him more than gore or something. He was there when we watched The Sixth Sense and I heard from his father a few days later that he had nightmares about "the boy with the bloody head."
So I typically save the scary stuff for when it's just me and Rocco, but I knew the second key quest wasn't going to land for them if they didn't see The Shining first... plus I honestly didn't want their first impressions of that film to be from the glimpses we got in Ready Player One.
So I sat them both down on my couch yesterday, told them to buckle in because we were going to watch The Shining. They asked why we had to watch this movie. I said "I'll tell you after we watch Ready Player One."
Max was nervous. He only knew of the movie by title and DVD cover. Rocco seemed down, if not super enthused especially when I reassured them it's not "jump scare" scary. I said it's mostly a lot of people talking and that's true.
I remember watching The Shining when I was about their age and I remember being engrossed in it, but that was before the Internet changed attention spans forever. Could a movie as talky and deliberate of The Shining work for today's youth?
The answer is, as always, it depends on the kid. Rocco was in it the whole way through, but Max needed an escape. In that sense it worked a charm because the tone was getting to him. He wasn't antsy so much as he couldn't handle the tension so about halfway through I let him play Splatoon 2 on the Switch while Rocco and I stayed focused on the movie.
That said I'd look over at Max from time to time and he'd be watching the movie, the game still in his hands, going unplayed. I think he just needed the ability to check out for a minute if things got intense.
It was amazing to me to see how quickly they grasped the geek minutiae. The carpet pattern, the bloody elevator visions, the twins, Room 237, the hedge maze, redrum (they figured that one out much quicker than I did. "That's murder backwards," Rocco exclaimed waaaaay before the mirror shot revelation), etc. 
All those things they commented on. And, being young boys, they of course still snickered at a character being named "Dick," but boy did they love Scatman Crothers. They kept saying over and over again how awesome he was, so you know they're wired right in the head.
There were two moments I was worried about. I knew they could handle the deeper horror at play, that of a parent turning against their child. Jack Nicholson is cartoony enough and their real life dad is good enough that I didn't think any of that would get to them. But there were two things I wasn't sure about. One was the use of the "N word" in reference to Dick Hallorann and the other was the naked lady in the bathtub, which is pretty important they see because the whole point of watching The Shining at this moment was to give them a context for the sequence in Ready Player One.
For the racial slur I was a little curious if they would know it and what it meant or if that would have be an uncomfortable conversation. When Grady utters the "N word" in the bathroom with Jack Torrance both boys instantly said "He's racist." So they knew it and knew it was bad and that using it means you're a bad person. Phew.
As far as the nudity, I gave them a little warning as Jack entered Room 237. "There's some nakedness coming up, so prepare yourselves." They're at an age where I'm sure there's some curiosity digging in, but right now they're still embarrassed about sexuality, so they self-censored, looking all over the room and not at the TV while the naked lady gets out of the tub, stealing an occasional glance to see if the movie's moved away from the naked lady.
When the big reveal happens next and the pretty naked lady becomes the creepy decomposing old lady ghost they were totally engrossed. I don't think they registered her body as something to be embarrassed about witnessing, which is interesting. Instead they were focused on the horror on display, with Rocco even commenting about how good the makeup was.
Funnily enough the nudity to get the biggest reaction was Hallorann's giant-afro'd goddess portraits. It painted a completely different picture of the kind old dude they loved at the beginning of the movie and they're so of a different time and place that they thought they were the funniest things they've ever seen.
When Hallorann met his fate they seemed a little upset... less that he died, but more that he went all that way just to get hacked up in the Overlook's lobby, which is a reaction I love because today everything is so streamlined and truncated that it really is shocking to see something where a guy spends 25 minutes of a movie trying to get somewhere and then almost instantly drops dead.
We'll see if I hear any reports on nightmares from their parents but I don't think The Shining scarred them permanently. They were still curious why today of all days we watched this movie, but they figured it out soon enough.
Going into Ready Player One they knew next to nothing. I told them it was kind of like Willy Wonka with video games and made by Steven Spielberg, the guy behind a ton of stuff I've showed them like Jaws, the Indiana Joneses, Jurassic Park, ET, etc, but they hadn't seen a trailer or poster or anything.
They were so into the movie from the get-go, just like I thought they'd be. The constant barrage of references had them always excitedly pointing out stuff. Rocco went especially nuts when he saw Tracer from Overwatch because that's his favorite character to play.
The whole movie played like gangbusters, the I was anxiously awaiting The Shining section. When they realized what was about to happen they both went "Whoa!" Which is exactly what I did when I saw the movie for the first time. They laughed at Aech talking to the creepy twins, they shook their heads "no" when Aech goes into Room 237, pointed at the July 4th, 1921 photo. They were in on the reference in a way they absolutely would not have been just a few hours before and it absolutely grabbed them.
I could see their engagement go from passive to damn near interactive. In that moment they were collaborators with Spielberg. He was talking directly to them and you could see it on their faces.
That is movie magic right there and I'll never forget it.
I liked it so much that I had to share it with you guys. I felt compelled to write about this experience, which was so emotional and powerful to me that it refused to be kept bottled inside. I have no idea if anyone will give a shit, but it meant a lot to me. Plus it was an excuse to talk about Kubrick and Spielberg again!