Have you heard the news? We're hosting an after party for the community after RTX London, and raising money for Special Effect to boot! We understand some people have questions, so we'll try and answer some of these below. If your question is not answered, please leave a comment and we'll reply to you.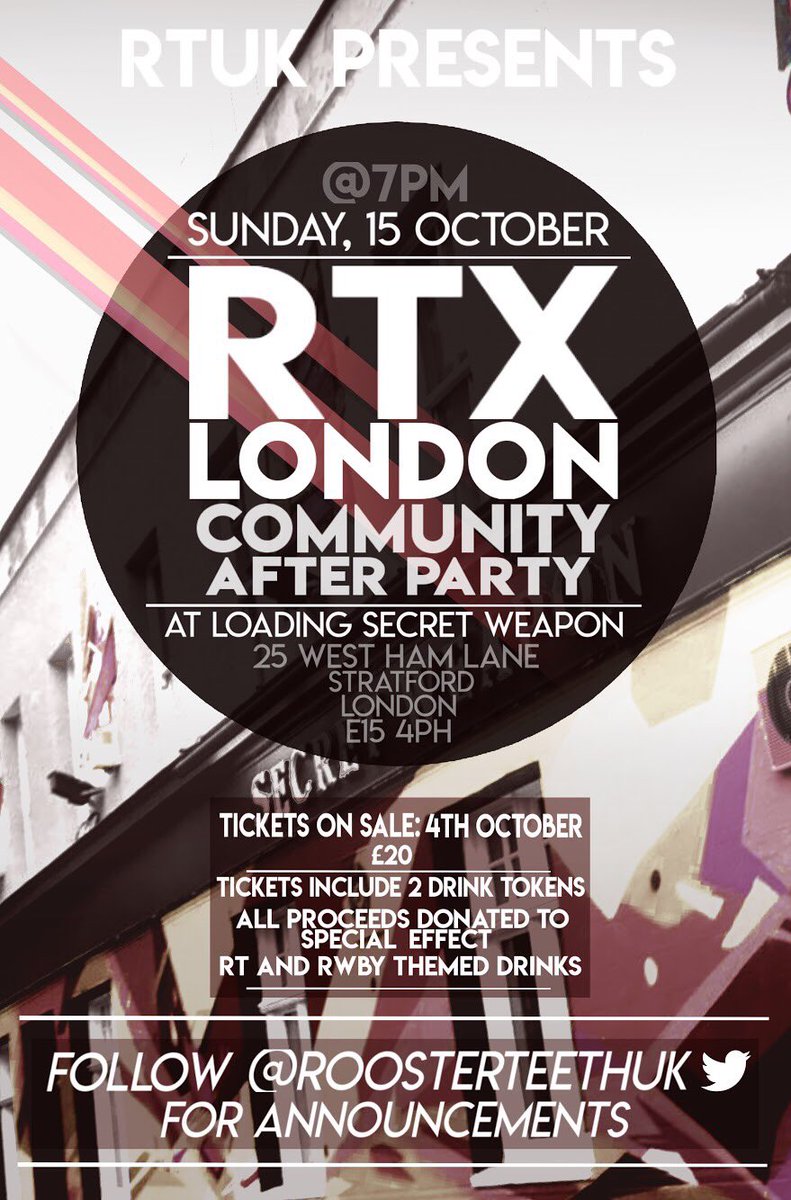 Poster designed by @Lixxieb
When do tickets go on sale?
Tickets will go live for sale on October 4th. We'll announce it first on Twitter, so go follow @RoosterTeethUK to know first, other social platforms will be updated afterwards.
Can I buy tickets on the door?
Afraid not. Due to the capacity of the venue and the drinks tokens being included in the ticket price, we'll have to have a confirmed list of ticket holders prior to the event.
There's also a very limited number of tickets available, and we're expecting them to sell quickly!
Do I need to have an RTX badge to buy tickets?
While we'd like to see this as a chance for people who have met at RTX to hang out socially afterwards, we've got no way of stopping anyone from buying tickets if they didn't attend RTX.
How far is the venue from RTX London?
You can take either the DLR up to Stratford from Prince Regent Station (this is the station by the east entrance to Excel) or take the 473 bus North bound. Either option takes roughly 25 minutes.
Is it over 18's only?
Yes.
Will any RT staff be attending?
We've extended an open invitation to any Rooster Teeth staff or special guests from RTX London that would want to come, but we won't be announcing any guests for the party.
Please do not come to the venue without a ticket in the hopes of meeting RT staff.